Kaleo Van Titcomb is a male vocalist and guitarist who has been playing music professionally for over 15 years.   Kaleo's style of music is a fusion and mix of original compositions and cover songs from many different genres, with a hint of his unique blend of influences from the islands; backed by his love for all kinds of music types spanning from Reggae to Latin and Country Rock.  He plays a variety of musical instruments such as the `ukulele, guitar, bass, piano and keyboards, violin, and drums to name a few.
He has performed at various venues throughout the Pacific Northwest such as the Willamette University Luau, Lewis and Clark Luau, and the Beaverton Uwajimaya Hawaiian Festival the past 4 years.  He's also performed at Pacific University, Red Hook Brewery, the Mac Club, Esther Short Park, Tommy O's, Trader Vic's, and Patrick's Hawaiian Café to name a few.  He also does private parties, baby parties, weddings, anniversaries, birthdays, corporate events, and store grand openings, etc.
Kaleo currently plays weekly at Noho's Hawaiian Café on Fremont, and has been at that location for the past 6 years jamming both traditional Hawaiian and contemporary music.  He also plays monthly at Ye Olde Pub in Troutdale, where he has been for the past 4 years as well.  3 years ago, he picked up Sunday nights at Salty's on the Columbia during the winter and spring seasons, and has been invited back to perform each season, where he presently finds himself performing once again.
If you're interested in hearing Kaleo live please check out his calendar for a schedule of where he will be performing next!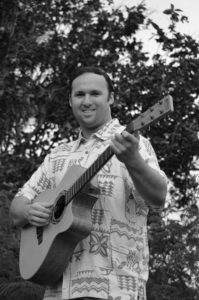 A little bit more about Kaleo…
Kaleo Van Titcomb was born and raised in Kailua, HI.  He graduated from the Kamehameha Schools and attended Pacific University where he obtained both a Major in Business Administration and minor in music.
In 2002, under the direction of Richard Aqui and the late Charlie Lukela, Kaleo recorded his first album with musical group Ho`okani, which was a compilation of all original island reggae contemporary music.
In 2006, under the direction of Ken Thompson, well-known booking manager of many talented bands and musicians in the islands, his group Ho`okani transformed from an island reggae group to a trio which started playing at numerous hotels and venues in Waikiki weekly.  From there, his love for music expanded into freelancing and playing with other groups such as the group Pali, with which he had the pleasure of recording the album With Aloha that would go on to win 2 Na Hoku Hanohano Awards (Hawai'i's equivalent of the mainland Grammy Awards).
In 2010, he moved to Oregon for a job opportunity.  Although he had to leave his island home and his many gigs behind, he went on to pick up where he left off in the great Pacific Northwest by continuing his passion for playing music there in venues around the Portland and Vancouver areas.  He currently lives in Camas, WA with his wife and two kids, and is thankful for all his influences throughout the years which has made him the musician he is today.